SX79R5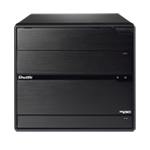 Feel an Extraordinary Experience
The Shuttle SX79R5 is the world's first LGA 2011-based platform in a cube-size format. It supports the latest Intel® Core™ i7 Sandy Bridge E series processors with up to six hyperthreaded cores and 15MB cache. The aluminum R5 chassis offers a space for an optical drive, two 3.5" hard disks in RAID configuration and an mSATA-SSD drive in Mini-PCIe form factor. Small as it gets, it is able to support the most powerful graphics cards* today. A 500 Watt power supply with 80 PLUS BRONZE certification comes pre-installed in the tiny footprint. The SX79R5 comes packed in a small package and it's definitely a gamers' pick to LAN parties.
* The SX79R5 supports high-end graphics cards including AMD Radeon™ HD 7970 and NVIDIA® GeForce® GTX 680.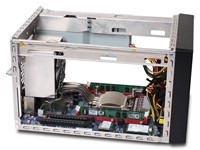 The First LGA 2011 Based Platform in a Cube Size
CPU in LGA 2011 supports Sandy Bridge E-series processors with 4 memory channels of DDR3-1600, as well as, PCIe3.0, different from Sandy Bridge CPUs, Sandy Bridge E processors have up to six cores, up to 12 threads, up to 15 MB cache, but no integrated GPU.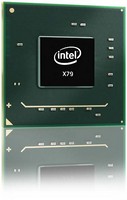 Intel® X79 Express Chipset
The Intel® X79 Express Chipset is the latest single-chipset design that supports the 2nd Generation Intel® Core™ i7 Processor family for the LGA 2011 Socket. It improves performance by utilizing serial point-to-point links, allowing for increased bandwidth and stability. The SX79R5 comes with 2 SATA 6Gb/s and 2 SATA 3Gb/s ports for faster data retrieval, doubling the bandwidth of current bus systems.
The New R5 Chassis Design
Shuttle has always placed great emphasis on the interior and exterior aesthetics of the XPC, with the belief that a good blend of style and form factor allows the XPC to be attractive, versatile, and work well in almost any environment. R5 is the new chassis design for the middle to high-end series XPCs in the year 2012. The chassis and case cover are made of aluminum and come with a sleek brushed metal front fascia.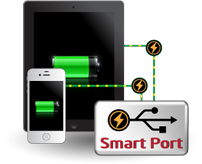 Quick Charge USB Port
The Shuttle Smart USB Port is a USB port which allows fast power charging when a smart phone or tablet PC plugin is detected. It is designed to feed power up to 5V/2A(varies with different smart devices) no matter when the system power is on or off.
* Smart USB port compatible for Shuttle R5 series models
* 2A only available for Windows XP and Windows 7 O.S. The normal charge 500mA applies to other mobile devices and Linux O.S.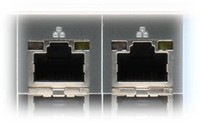 Support Dual Gigabit LAN
Shuttle SX79R5 allows you to share internet connection or just connect to two different networks. This can be a network router, VOIP gateway, and backup solution when one of the Gigabit LAN is failed.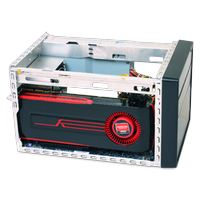 Support Dual Slot Graphic Card
With the space-efficient design, the SX79R5 is as roomy as it gets. Not only it's space-saving but also it maximizes the need for high-end users and markets. The designs for dual-slot graphic cards provide the users a faster and smarter performance.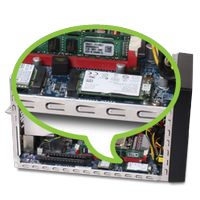 Support 2x mini card slots
Shuttle SX79R5 features two Mini-Card expansion slots. One is a half size Mini-PCI-Express slot dedicated for Wireless LAN adapter cards. The second features a combo port with Mini-PCI-Express &mSATA interface (Mini Serial ATA) which supporting the new generation of Solid State Drives (SSD) in a compact Mini PCIe card form factor.
Ultra Quiet
The SX79R5 produces only 27.8 dB at full load and 27.1 dB at idle mode. It delivers ultra-quiet and stable gaming environment for enthusiast gamers.
* The noise level varies with different graphics cards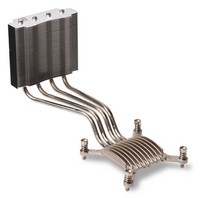 Integrated Cooling Engine Technology (I.C.E.)
Allowing XPC to remain under a stable, cool, concise and silent condition, the Shuttle I.C.E. heat pipe Technology uses convection cooling to dissipate heat away from and around the CPU. With all the same basic concepts and designs, the I.C.E. copper tubes coated in nickel enhances tube hardness and rust-proof protection are filled with distilled water, effectively channels heat away, providing high efficiency processor and chassis cooling.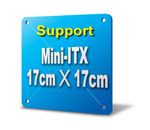 Mini-ITX Mainboard Support
Shuttle expands the capabilities of its R chassis, adding support for Mini-ITX mainboards (17 x 17cm or 6.7 x 6.7 inches). The Shuttle chassis can go beyond the Shuttle mainboard, so you can easily upgrade or downgrade the mainboard to your desire, without any modifications to the chassis.
80 PLUS BRONZE certified 500W Power Supply
The 80 PLUS ® performance specification requires power supplies in computers and servers to be 80% or greater energy efficient. This makes an 80 PLUS certified power supply up to 33% more efficient than current power supplies. 500W high efficiency & energy saving power supply of SX79R5 guaranteed by 80 PLUS BRONZE certification. In addition, the power supply uses a 50mm cooling fan providing the same airflow, but spins slower than previous 40mm models to make the system run even more quietly.