SN78SH7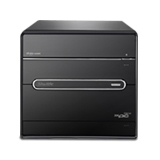 Fresh Glamor Design, Quad-Core Processors, and HD Performance
The fresh chassis for Shuttle Glamor Series, introduced with its conventional cube ancestry. The silver stripe and mirror band embellish the chassis with fashion and minimal look-and-feel. Shuttle Glamor SN78SH7 features the NVIDIA latest GeForce 8200 Chipset, supporting the newest AMD Phenom™ X4 Quad-Core Processors, DDR2 1066, DirectX® 10, PureVideo™ HD, Hybrid SLI® Technology, PCI Express™ Gen 2.0 architecture, HyperTransport™ 3.0 FSB, Serial ATA 3 Gb/s, and 80 Plus, bringing high-definition graphics quality, lower power consumption and fantastic system performance. Yet, SN78SH7 is an extremely quiet platform which produces less than 30dBs when runs heavy software application. To save more energy and reduce the power consumption, Energy Star 4.0 is labeled, which means that it definitely helps you save money and protect the environment.
Save Our Earth! Energy Star 4.0 Labeled
Show your environmental consciousness in action! Energy efficient, power consumption and cost reduced, Shuttle SN78SH7 gets the label of Energy Star 4.0, which means that it definitely helps you save money and protect the environment.
Please link here for the configuration of SN78SH7 system test.

AMD® Phenom™ X4/ AM2+/ Athlon™ / Sempron™ Processors
Built from the ground up for true quad-core performance, AMD Phenom™ X4 processors speed through advanced multitasking, critical business productivity, advanced visual design and modeling, serious gaming, and visually stunning digital media and entertainment.

PureVideo™ High-Definition Technology
Deliver superb picture clarity and stutter-free playback of high definition home theater experience to your PC, without the annoying artifacts and imperfections of traditional PC-based video solutions.

Hybrid SLI® Technology brings high performance and low power consumption HybridPower™ and GeForce® Boost
Hybrid SLI® technology, based on NVIDIA's industry-leading SLI technology, delivers multi-GPU benefits. Hybrid SLI features HybridPower and GeForce Boost: HybridPower let you switch between chipset GPU or discrete GPU to save unnecessary power. GeForce Boost can let chipset GPU and discrete GPU work together using SLI, for a better performance.
Efficient Hyper Transport 3.0
Hyper Transport 3.0 is capable to provide implausible FSB which dramatically elevates the efficiency of computing performance.
HDMI/HDCP and Full HD Experience
Experience HD video from the latest NVIDIA GeForce 8200 chipset with HDMI (HDCP), the platform supports 1080i/1080p format.
Finest Cinematic Surround Sound Experience
What would a home theater be without booming, immersive 7.1 channel surround sound? Experience the state-of-the-art sound quality provided by Dolby® Digital Live and DTS™ Connect functionality.
Integrated Cooling Engine (ICE) Let You Experience Quiet and Cool Performance
Integrated Cooling Engine (ICE) uses convection cooling to dissipate heat away from and around the CPU up to 140W. Copper tubes coated in nickel enhances tube hardness and rust-proof protection are filled with distilled water, effectively channels heat away, providing high efficiency processor and chassis cooling.
All Solid Capacitors Motherboard Design
All solid capacitors design is the new trend for Shuttle's motherboard and guaranteed to deliver maximum stability, reliability and longer system lifetime for the ultimate PC gaming and entertainment experience.

80 PLUS® Certified Power Supply
The 80 PLUS® performance specification is a standard which requires power supplies in computers and servers to be 80% or greater energy-efficient. This makes an 80 PLUS® certified power supply at least 33% more efficient than current power supplies.