SG33G5M DELUXE
XPC S Glamor SG33G5 wins Silver Award in HWM Australia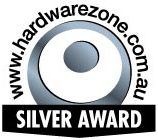 HWM Australia website, gives Shuttle XPC Glamor SG33G5 the Silver Award.
Anand says, 'while Shuttle may have introduced a true HTPC system before (the Shuttle XPC M Series Media Center) that outwardly takes its cue from consumer electronics, its strength has always been in giving enthusiasts full license to custom build their ideal system. Hence, the latest chipsets together with innovative features like SLI and CrossFire have been squeezed into the confines of the Shuttle SFF. Power users who know what they want and how to configure their own software and settings will find Shuttle's offerings more than equal to their expertise. Coupled with the Shuttle's decent exterior appearance and generous number of SATA and even eSATA ports, the SG33G5 is quite an ideal modern HTPC and media hub.'
In addition, 'the usual characteristic of a Shuttle XPC, like its excellent cable management and the quiet ICE cooler are present and the G5 chassis is a familiar sight, especially with the extremely minor facelift that Shuttle has crafted in order to glam it up. Installation too was generally smooth and trouble free, which has always been a major advantage of Shuttle XPC compared to its few competitors.'
About Shuttle
Established in 1983 and publicly listed since 2000, Shuttle Inc (TAIEX 2405) is an industry leading designer and manufacturer of small form factor (SFF) computers. Shuttle produced the first commercially-successful SFF computer, or Mini PC. It's engineered to be smaller and more-efficient, yet just as powerful as a full size desktop. Succeeding the high reliability and quality of SFF, Shuttle seeks to provide further rounded solutions for digital home and commercial market.
Contact US
Marketing Dept.
NO. 30, Lane 76, Rei Kuang Rd.,
Nei-Hu Dist., Taipei, Taiwan
Tel: 886-2-8792-6168
Fax: 886-2-8792-6268
E-mail:
shuttlepr@tw.shuttle.com