SB65G2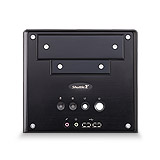 Great performance at a great price!
The XPC SB65G2 is the ultimate-affordable high-performance small form factor (SFF) computer. Built from the ground up value, this XPC offers unmatched style, functionality and performance. Whether you're into gaming or digital media, the XPC SB65G2 delivers the perfect combination of performance and value.
"If you're a hardware enthusiast or hardcore gamer looking at making the jump to SFF, you won't find a better solution than the … SB65G2," —Asher Moses, editor, PC Power Play.
The XPC SB65G2 is an ideal: LAN-gaming computer, Home gaming center, Great overclocking platform.
FORM FACTOR
Shuttle Form Factor
PROCESSOR
Intel Pentium 4/Celeron in the 478 pin package with 400/533/800MHz FSB
CHIPSET
Intel 865PE/ICH5
MEMORY
Two x 184 pin DDR 266/333/400 Dual Channel
DDR DIMM slots up to 2GB
VIDEO OUTPUT
Intel 865PE
AUDIO
On board Realtek ALC650 six channel audio
ETHERNET
- On board Realtek 8100B supports 10 Mb/s and 100 Mb/s LAN operation
- Wireless Module build in
‧802.11b WLAN USB Module
‧multi-data transfer rate
‧small and compact, easy to install
‧360° all direction antenna
IEEE1394 (FireWire)
VIA VT6307, complies with 1394 OHCI specification revision 1.0, up to 400Mb/s data transfer rate
STORAGE INTERFACE
- ATA-100
- Intel ICH5 built in supports two Serial ATA ports
ONBOARD CONNECTORS
- AGP Slots
‧1 AGP V3.0 , 1.5V , 4X/8X mode Slot
- PCI Slots
‧1 PCI
FRONT PANEL
- 2 x USB ports 1 x mini1394 port
- 1 x Line-in 1 x Mic-In
- 1 x Power-On button
- 1 x Reset button
BACK PANEL
- 4 USB2.0 Ports
- 1 PS/2 Keyboard Port,1 PS/2 Mouse Port
- 1 IEEE1394 connector
- 1 Rear out, 1x Front out, 1x Center/Bass connectors
- 1 RJ45 LAN Port
- 1 Serial Ports
- 1 PCI slot,1 AGP 8X/4X mode slot
- 1 SPDIF_In/Out
DRIVE BAYS
- 2 x 3.5" bays
- 1 x 5.25" bay
DIMENSIONS
300(L)x200(W)x185(H)mm, 2.85Kg (N.W.), 4.65Kg (G.W.)
POWER
- Dimension: 82(W) x 43(H) x 190(D) mm (Max)
- Input: 110 / 230V AC
- Output: 220W(PFC)
- EMI Certified: FCC, CE, BSMI
- Safty Certified: UL, TUV, CB
- Power Cord: Depends on specific region demand
ACCESSORIES
- 1 x Mainboard User manual
- 1 x Mainboard CD-Driver
- 1 x XPC Installation Guide
- 1 x I.C.E Technology CPU heat-pipe
- 1 x FDD Cable
- 1 x HDD Cable
- 1 x CD-ROM Cable
- 1 x SATA Cable
- 1 x SATA Power cord
- Screws
- Twin Adhesive