SS56L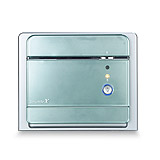 Styled to be digital
The XPC SS56L is the perfect centerpiece for your digital life. This high-performance, value-enhanced small form factor computer puts the power of the Intel® Pentium® 4 processor in a smoothly styled package — the perfect addition to your office, home office or living room.
"The XPC SS56L's combination of precision engineering and cool aesthetics gives new meaning to the phrase 'Shuttle creates, others follow.'" — Ken Huang, vice president, systems R&D.
The XPC SS56L is an ideal:
1.Digital hub (music, photos and video).
2.Desktop replacement.
3.Home media center.
4.Home office platform.
Styled to be digital
The XPC SS56L is the new standard in small form factor industrial design. Delivering an exceptional balance of integrated and upgradeable features, this is the XPC for the user that wants smooth style and advanced performance.
Faster is better
This SiS®661FX-based small form factor (SFF) computer supports 800MHz FSB Intel® Pentium processors and DDR400 memory, so it's wicked fast. Also, with SiS Real 256E integrated graphics, an 8X AGP slot and TV-out port, video performance can grow with your needs.
Advanced I/O
With FireWire® 400, USB 2.0 and SPDIF digital audio I/O built-in, it's easy to connect all of your peripherals. The cleverly designed recessed media bay hides peripheral connects from sight, leaving a smooth stylish look. Further, with 10/100 LAN built-in and optional 802.11b WLAN, the XPC SS56L offers a full palate of options to share your digital files — audio, video and pictures.
Excellent ergonomics
Shuttle's proprietary Silent X technology makes the XPC SS56L cool and quiet. Advanced Integrated Cooling Engine technology and intelligently-engineered airflow mechanics and the stylish "L"uxury enclosure make the XPC SS56L an optimal computer for the living room, bedroom or office.