SN21G5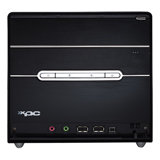 Family XPC, Gaming XPC
Reliable and easy to use the XPC SN21G5 includes features your whole family can use, every day. Connect with web surfing, email, and instant messaging; enjoy high quality movies and music; even learn with educational and reference software. The XPC SN21G5 combines features, style, and value to make it the most versatile platform for the modern home.
PCI Express graphics ready, the XPC SN21G5 is easily transformed into a high-performance gaming system. Delivering performance to match a full sized desktop PC, the XPC SN21G5's small size and great looks make it perfect for LAN parties and gaming tournaments.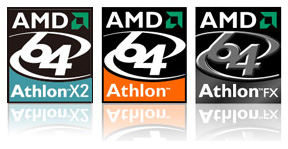 The XPC SN21G5 supports the complete AMD CPU range.
The XPC SN21G5 supports the complete AMD CPU range. From high-value Sempron CPUs to the premium FX series, the XPC SN21G5 gives you complete freedom to choose the processor that matches your budget and performance needs.
Athlon 64 X2
advanced dual core technology for multitasking and digital media.
Athlon 64
high performance 64 and 32-bit features for mainstream users.
Athlon 64 FX
extreme performance and overclocking for gaming.
NVIDIA GeForce 6100 GPU
The XPC SN21G5 onboard GPU delivers ultra-realistic effects and unmatched multimedia functionality for an incredible PC experience.
Highlights:
Microsoft® DirectX® 9.0
Ensures high compatibility and performance for all DirectX 9 applications.
Shader Model 3.0
Enhances the latest 3D games and software with stunning and complex special effects.
300 MHz RAMDAC
Supports display with high, ergonomic refresh rates up to and including 1920x1440@75Hz.
PureVideo Decoder Support
Best of class media decoding and image enhancement functions deliver a great visual experience in games, DVDs movies and online video.
Multi-Display
Increase productivity with and streamline you workflow with multiple displays. Larger desktop space lets you have more windows open at once.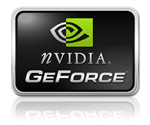 NVIDIA nForce™ 410 MCP
The XPC SN21G5 combines easy to use performance and data protection features, network capabilities, and high-quality audio/visual components to make it the most versatile platform for the home or office.
Highlights:
NVIDIA nForce Storage
Safeguards your most important digital media assets with support for NVIDIA RAID level 1 or 0. MediaShield software makes setting up and managing drives easy.
SATA 3Gb/s with Native Command Queuing (NQC)
Enjoy high-speed data transfers with up to double the bandwidth of previous SATA standards.
Fast Ethernet
Ready to attach to your home or office network, or plug directly to your broadband connection for high-speed Internet access.
5.1 channel audio
Enjoy movies, games and music in atmospheric surround sound.
Upgradeability
Featuring industry standard PCI Express 16x and PCI expansion slots the XPC SN21G5 gives you the possibility of exploring a wide range of upgrade options, now or in the future. Add a 3D graphics accelerator and play the latest games at high resolutions, or a TV tuner card so you can enjoy TV on your desktop.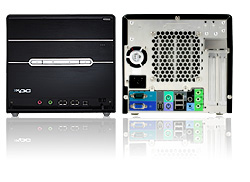 Advanced I/O
The XPC SN21G5 is ready to connect to all your modern digital devices. Cameras, music players, VoIP phones, printers, USB flash drives, and more can all be attached directly thanks to the easy to reach USB 2.0 and FireWire 400 ports at the front and rear of the system.